In all honesty I was smoking far too much weed at the time this post was written so the noise I heard (explanation at end of post) very well could have been an auditory hallucination.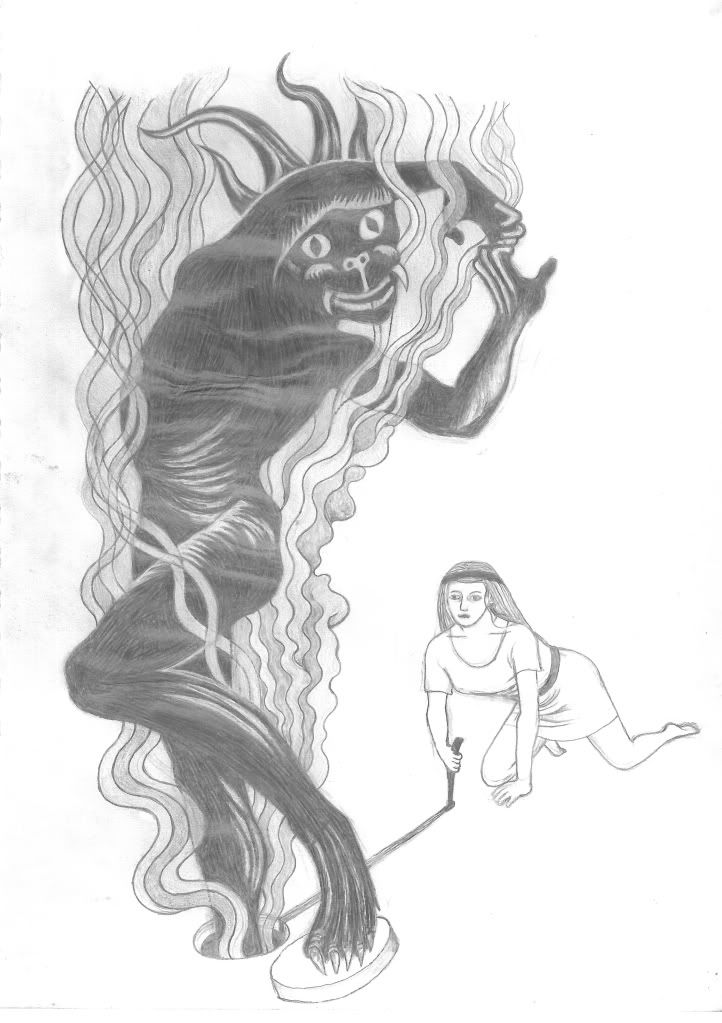 This post will start out disturbing and then get progressively less so, FYI. Its purpose is to recount a series of interactions I've had, starting around the Spring of 2009. The first was a nightmare containing the typical theme of something trying to get in my window. I was standing at the window of my bedroom looking out into the back yard, where a hooded being with a face mangled like Freddy Kreuger was standing, watching me. Although I was afraid of him, I also knew that he needed something from me and I was tempted to open the window and let him in. Not a good idea. Luckily my better judgement won out and I sent him on his way.
In the morning I wondered what could be done to help beings such as these, who seem to be trapped in some kind of spiritual bondage. Intuition tells me that it is necessary to ask for the assistance of an intermediary, a higher being who can take on the work that I'm not even going to pretend I'm capable of. In the case of regular low-level house hauntings or similar, it isn't always a problem to pray for trapped spirits and even interact with them, but in the case of other, more powerful fallen entities, direct interaction holds such dangers for the human soul that clearly defined boundaries are a strict necessity. However, compassion has helped me to release the fear I once felt in their presence and it may be that, collectively speaking, this sentiment can also help higher beings to assist in neutralizing perilous conditions for others as well.
Thankfully, the next encounter I had was a lot less horrific. It started while I was perusing the site of a semi-famous Illuminati Oracle, and came across the smiling visage of the dancing creature above. The Oracle had demonstrated some very noticeable psychic abilities, yet these seemed to be clouded by emotional problems that distorted the perceptions into situations damaging for both himself and others. But enough of what he said seemed plausible that I became a regular visitor to the site. One of the recurring features was a section containing photographic "evidence" of which celebrities had been demonically possessed. One of the most ridiculous entries had an artistic rendering of Annie Lennox with reptilian eyes, which really caught my attention since I've always felt her to be an exceptionally decent person, based on both her music and watching televised interviews. This impression was recently confirmed for me when Annie signed on to a petition in support of the mother of Hollie Grieg, who is the primary voice in exposing Scottish pedophile rings reaching to the inner core of government and law enforcement circles.
So, for a long while I had visited the Oracle's blog, in part for amusement but also for information, since his background story seemed mostly credible. In one of his posts about demonic possession, he included a number of images of demonic beings who did look fairly unpleasant and malevolent, definitely not the sort of thing I would want to invite into my home or even look at with much frequency. But then there was the smiling creature pictured above, who I liked instantly and named Raymond. I printed out his picture and have since been unable to find the original artist. If anyone knows who it is, please drop me a line because I'm dying to know! Anyways, I had Raymond's picture up on my wall in my previous apartment but when I moved he got lost and I had to spend some time looking for him. When he was finally recovered last Spring, I promptly lost him again during a manic bout of spring cleaning. But before that occurred, I had resolved to copy his picture by hand in order to preserve and enlarge the original image, which had become quite water-stained. While this was occurring I felt the strong sense that we had developed a connection.
Normally, although it is very fascinating to me, demonic imagery seems fairly oppressive, even something that could lead to possession by way of creating a psychic portal through the eyes of the viewer, if one is predisposed to that sort of thing and does not take necessary precautions. Over the course of time, I've become a lot more hesitant about explorations into paranormal/astral realms, since having a few overwhelmingly negative experiences has taught me that not everything out there has your best interests in mind. In the past, neglecting to express the intention to bar parasitic beings from my vicinity has lead to problems, to say the least. But in the case of Raymond, I was won over by his overall friendly demeanor. ;) As my spring cleaning went through the stage where everything becomes more chaotic before it gets clean again, I was starting to become slightly distressed that I had lost him again. One afternoon, I rushed into my room and immediately slammed the door behind me, since it gets jammed a lot and you have to close it hard to prevent this from happening. My bookcase is right next to the door and on top of it was a stack of papers that had yet to be sorted and filed. As the door slammed, one of these papers lifted from the stack and began doing rapid flips through the air, until landing flat against the books, propped up by the shelf. Of course it was Raymond, grinning at me perfectly upright! This may seem like a minor occurrence, and maybe it is, but at the time it felt very significant. A lot of realizations have come out of this interaction, mostly regarding the background behind the idea of Luciferianism or "Satanism", the cartoonishly superficial interpretation of which is causing many problems for genuine, effective resistance against the geopolitical, occult-based global power structure. Much more on this later because it's too much to get into in a brief post. (A lot of these realizations are probably just common sense for the open-minded, like epiphanies so frequently are. Knowledge does not translate to wisdom after all, so most people have to start with the basics.)
The last and most recent incident occurred on Sunday, during the three day window of psychic potency surrounding the solar eclipse, which becomes exact today. Up to this point, I had become somewhat obsessed with a recently discovered
system of angelology
after it had identified highly-specified personality traits, as well as overarching life circumstances, in both myself and others, based on the guardian angels we were assigned according to each day, month and hour of our birth. This system recommends directly invoking the angels as opposed to working through the hierarchical system of religious institutions. Unlike the path recommended by some channelers, angelology does not advocate leaving discernment at the door in favor of blind obedience to the source. So, after taking some time to acclimate myself to the methods, I began praying to Mebahel, the angel of justice, on a daily basis, extending this practice over the period of several weeks. Since Mebahel presides over the court system, my purpose was the exposure and subsequent prosecution of a certain individual who has been involved in directing the kidnapping and ritual torture of homeless youth.
On the day when the incident happened, I was in the bathroom brushing my teeth, thinking of a friend of mine who I've recently been in a protracted conflict with. This conflict may have come about, at least in part, because of her religious sensibilities as well as my own stuff but I won't get into that. In the past, I've had some resentment and a lot of sadness around this situation, but in that moment, I was only feeling contentment about the possibility that our differences could be resolved without contradicting her spiritual inclinations. Right around that moment, my dog started wagging her tail in the living room. Since my dog typically never wags her tail unless there is someone she knows and likes in the immediate vicinity, I went into the living room to see what was going on. The property I live on is partially surrounded by a six foot tall spiked fence, with dense brush and a wooden fence of the same height around the backyard. Since I had not heard the gate open, her unprovoked exuberance struck me as unusual. There was no one around so I started talking to my dog and telling her how weird she was being. Then I went back into the bathroom, not really paying attention to the sound above my head, which I assumed was the pattering of little rat feet running around in the pipes. As I zeroed in on it, I noticed that the sound was distinctly musical, like a cross between wind chimes and bells. The sound was very close by and clearly not coming from somewhere outside the house.
Soon afterwards, I called a close friend who is similarly focused on shutting down the same criminal network. I told her what happened, somewhat incredulous, because it seemed so subtle. Subtlety is a very foreign experience for me as, in the past, paranormal experiences have always been coupled with, excuse the New Age cliche here, dense, very physically noticeable sensations. My friend, who also regularly uses prayer as an avenue to eradicate parasitical Illuminist organizations, reminded me of her own experiences from during the day before the lunar eclipse two weeks previous. She had gone swimming in the Pacific and was deep in the ocean when she was surrounded by a circle of dolphins, an encounter she described as magical, and far beyond the realm of day-to-day coincidence. One of the lessons I'm taking out of this is that it will be necessary to move on from past resentments in order to achieve the goals I've set for myself. And also to be patient, because our prayers are heard even if it doesn't seem that way in the moment.
postscript, 1/9/12: I realize this post comes off as completely crazy but I'm only relating what happened as I perceived it at the time. A few months later I heard a structurally similar sound in the same bathroom and I will not deny that it definitely sounded a lot more like vermin crawling around in the pipes than it had before. In retrospect, it seems more than a little impractical to base optimistic spiritual insights off of an auditory hallucination. But even so, I had a follow up incident that was not drug-induced shortly afterwards. This time I dreamed I was in a nicely decorated home, bobbing up and down as if levitating. I felt a being that appeared to be made of light or a similar substance appear in front of me and pass its hand in front of my throat. As it did so, I felt the sensation of a problem being either resolved or alleviated. This is kind of interesting because a number of people who are psychically gifted have told me they sensed an energy imbalance surrounding my throat area, and this location is also the site of a major injury. Was this series of encounters wishful thinking or an actual perception of tangible events? My mind is not closed to either possibility.