source:
Associated Press
The heir to the British throne says he is related to Vlad the Impaler, the cruel 15th-Century Romanian warlord who helped
inspire
Bram Stoker's 1897 vampire novel "Dracula." more...
Prince Charles recently claimed to be a descendant of Vlad Tepes, the Romanian prince who is most recognized for overseeing the impalements of not only colossal numbers of invading Ottoman Turks but also many thousands of his own people, with a particular focus on women who committed adultery. Maybe David Icke was right about the royal family after all! ;) Queen Elizabeth's alleged involvement in the recent
Mohawk nation genocide
does seem to give some credence to the thought.
also related, via
The Metro
:
British royals 'used to be cannibals dining on human flesh'

The British royal family have been firmly in the limelight recently, with the nuptials between Prince William and Kate Middleton making headline news around the world. But now a new reason has emerged why the royals might be a particularly interesting subject, with the revelation that they used to dine on human flesh. According to a new book on medicinal cannibalism, written by University of Durham academic Dr Richard Sugg, well-off and well-educated Brits used to eat human flesh, blood and bones as medicine. This practice apparently took place in other parts of Europe as well up until the end of the 18th century. While referring to the barbarity of cannibals in the New World, royals hypocritically applied, drank or wore powdered Egyptian mummy, as well as human fat, flesh, bone and even brains. Dr Sugg suggests one cure for nosebleeds used by the upper class was moss taken from the skulls of dead soldiers. The academic, from the university's English Studies department, argues strongly that the Europeans were the real cannibals of the world.
more...
: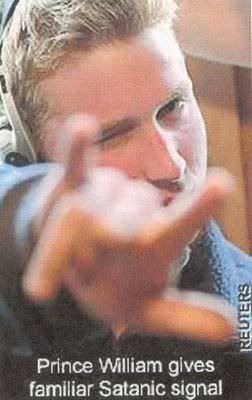 Normally I try to avoid posting photos from tabloids but it's hard not to in this case because Prince Harry's Nazi uniform, which he wore to a Native people-themed costume party, is a little questionable considering his own family's involvement in
enacting genocide and mass slavery in the Congo
.